More than 50 years of nurturing creative, bold and meaningful work by new generations of filmmakers and scholars!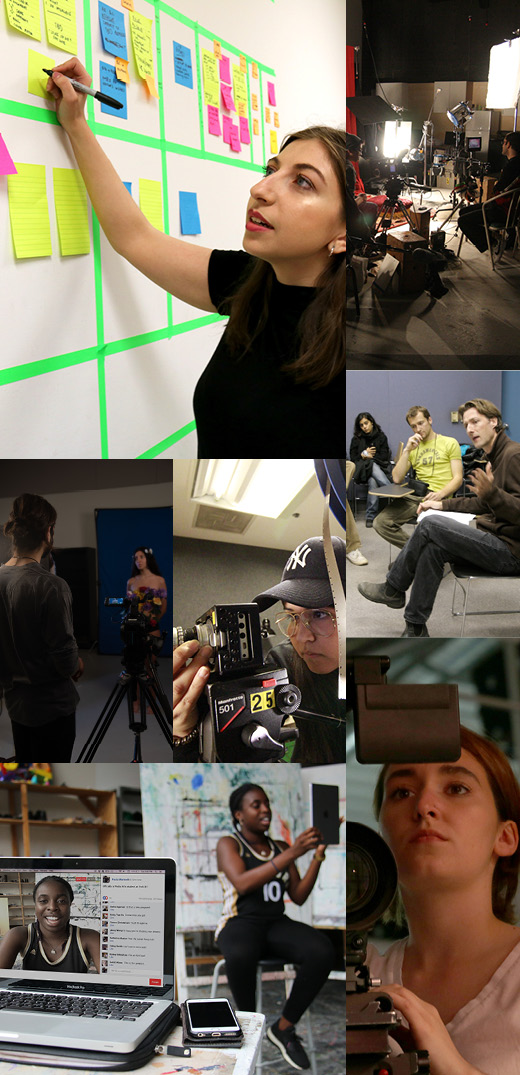 ABOUT
CINEMA & MEDIA ARTS
We nurture creative, bold, and meaningful work by new generations of filmmakers, media artists, screenwriters and thinkers, based on a curriculum enlivened by and relevant to the continuous changes in our field.
Housed in the School of the Arts, Media, Performance and Design, the Department of Cinema and Media Arts is the most comprehensive university-based film program in the country, with a curriculum rooted in the interrelationship of theory and practice.
We offer degrees in four areas. In Cinema & Media Arts – Production, students work with state-of-the art facilities to make films and develop specialized skills in directing, cinematography, editing, sound, and production management. In Cinema & Media Arts – Screenwriting, students explore the craft of moving-image storytelling in the only degree-granting screenwriting program in Canada. In Cinema & Media Arts – Media Arts, students use new camera systems, game engines, interactive environments and social platforms to build narrative and experimental content and experiences. In Cinema & Media Arts, students examine cinematic cultures through the lens of history, visual culture, technology, industry, sexuality and race as well as aesthetics, learning how to understand cinematic practices and diverse forms of representation from around the world.

Our studio courses seek to nurture films, screenplays and media works committed to richness of content, creative vitality and mastery of technique. Our studies courses offer a challenging critical and interdisciplinary perception of the world we live in through its cinema. All four areas benefit from engagement with one another, which is one of the unique strengths of our department.
Our teaching faculty is composed of a diverse group of filmmakers, media pioneers and scholars who are actively engaged in research and production, well-established in their fields. Our graduates are employed in the Canadian film, television and media industries in a wide variety of creative, technical, and executive positions, and are at work in film festivals, galleries, schools, and other film and fine arts institutions. The range of their accomplishments reflects our determination to offer our students more than just career training; our programs are intended to serve as doorways to a life of reflective and productive engagement with a world increasingly defined by moving images across diverse media. Located in Toronto, Canada's premier destination for film and one of the most diverse cities in the world, we approach the cinema as an education in global citizenship, while we relish Canada's cultural diversity and the way it is reflected in our students and the work they produce.
Supported by a dedicated professional staff, we take considerable care to recruit, admit and advance through our programs highly motivated students who want an extraordinary university education.
OUR CREATIVE SPACES
Film Equipment Room
HIGHLIGHTS
A Brief History
1969
Canada's first Department of Cinema and Media Arts opens its doors on York University's Keele campus. It's founding Chair is filmmaker, scholar and educator James A. Beveridge
1973
The Department's first BA in Film graduates
1976
the Department's first BFA in Film graduates
1979
Canada's first Graduate Program in Film launches
1983
The first MFA in Film graduates
1990
The Centre for Film & Theatre opens, which is the Department's current home
2003
Direct intake to BA in Cinema & Media Studies begins
2007
PhD Program in Cinema & Media Studies accepts its first students
2009
Designated BFA in Screenwriting is established, creating the first and only undergraduate screenwriting program in Canada
2017
the BFA in Media Arts is launched
2019
The Department celebrates half a century of filmmaking at York University
FACULTY AND STAFF
People of Cinema & Media Arts
Associate Professor
Tereza Barta
Associate Professor
Barbara Evans
Professor Emeritus
Seth Feldman
Professor Emeritus
Scott Forsyth
Associate Professor
Laurence Green
Associate Professor
John Greyson
Associate Professor
Sharon Hayashi
Associate Professor
Brenda Longfellow
Professor
Janine Marchessault
Associate Professor
John McCullough
Associate Professor
Marie Rickard
Associate Professor
Temenuga Trifonova
Professor Emeritus
Colleen Wagner
Professor Emeritus
Renate H. Wickens
Associate Professor
Howard Wiseman
Associate Professor
Suzie Young
Associate Professor
Michael Zryd
Professor Emeritus
Evan W. Cameron
Professor Emeritus
Jim Fisher
Professor Emeritus
Antonin Lhotsky
Contract Faculty
Geneviève Appleton
Contract Faculty
Maureen Dorey
Sessional Assistant Professor
Gillian Helfield
Contract Faculty
Carol McBride
Contract Faculty
Steve Munro
Contract Faculty
Rebecca Schechter
Associate Professor
Kenneth Rogers
Contract Faculty
Chris Gehman
Contract Faculty
Keith Hlady
Assistant Professor
Manfred Becker
Assistant Professor
Mary Bunch
Assistant Professor
Taien Ng-Chan
Assistant Professor
Ingrid Veninger
Contract Faculty
Kazik Radwanski
Contract Faculty
Tony Nardi
Associate Professor
Patricio Dávila
Contract Faculty
Chris Romeike
Contract Faculty
Matthew Johnson
Contract Faculty
Vladimir Paskaljevic
Contract Faculty
William Robertson
Contract Faculty
Matthew Miller
Contract Faculty
Michelle Szemberg
Contract Faculty
Bill Robertson
Assistant Professor
Moussa Djigo
Contract Faculty
Morgan Fics
Assistant Professor
Hector Centeno Garcia
Assistant Professor
Sue Johnson
Assistant Professor
Fabio Montanari
Contract Faculty
Matthew I Thompson
CINEMA & MEDIA ARTS AT YORK STUDENTS
Getting Involved